2019 Breeders' Cup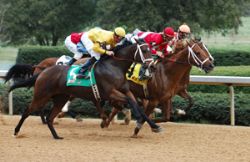 2019 Breeders' Cup
November 1 - November 3, 2019
Don't miss the excitement of the Breeder's Cup World Championship!
Land Features:
Two Nights at the DoubleTree by Hilton Hotel Monrovia
Breakfast Daily
Breeders Cup Saturday Ticket First Floor Sections R-V
Two Days Intermediate Car Rental
The DoubleTree by Hilton Hotel Monroviaoffers free
...

Sports Empire is your ultimate authority in delivering sports and special event packages. Offering a lineup of the biggest and most exciting sporting events throughout North America –combined with a proven history of delivering the most complete and hassle free packages – Sports Empire offers the professional travel community the best value for customized sports and special event packages.
Our reputation has been built on over thirty years of consistently delivering
...